One Grecian urn! Two Grecian urns!
Dancing out onto DVD shelves yesterday, six major releases from last year. Black Swan, Tangled, Made in Dagenham, All Good Things, Fair Game, and Mesrine: Public Enemy #1.
Let's take a brief look at each, and determine which is most worth your money!
I'll tell you right now, though - it's Black Swan.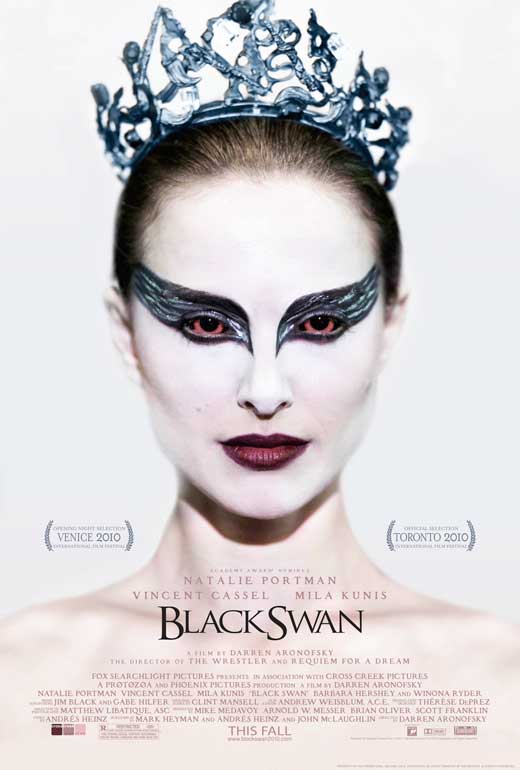 Darren Aronofsky's penetrating dive into the psychological breakdown of Nina Sayers (performed to perfection by Natalie Portman) is one of the most thought provoking and disturbing films of last year. It's a project filled to the brim with beautiful performances from almost all involved, and stirring art direction and cinematography. Of course, all great films come with their controversies - Natalie Portman's body/dance double claims that she performed most of the on-screen dancing, while Aronofsky and the film's editor claim that she's nuts if she thinks so.
But, all the negativity and slamming aside, it's the performances that make the film - Natalie Portman, Mila Kunis (still, robbed of an Oscar nomination), Vincent Cassell, Winona Ryder, Barbra Hershey... the phenomenal cast propels the film beyond its horror-cast hopes and turns it into an absorbing shock piece balanced between the breakdown and the healing. The signs are there even before the movie starts, and there isn't anything the audience can do except sit in the seat and watch it unfold.
Also letting its hair down for home viewers this week is Tangled, Disney's take on the fairy tale of Rapunzel. Exceptional film with startlingly realistic animation - it's a total throwback to the glory days of Disney princesses, and a shimmer of hope . The shades of former Disney outings that linger through this film probably give it its title (get it? tangled? ... no?) and the allusions that go back even as far as Snow White make this a film for every kid to love, and every movie buff to swim in.
Mandy Moore and Zachary Levi's work here is charming, at best. There aren't many performances that stand out, and the songs aren't going to reach the classic perch that something Beauty and the Beast might have back in the day, but it is beautifully designed. Fun for most everyone, except people who hate fun.
Also on DVD this week -
Made in Dagenham - The incredible true story of Rita O'Grady, a woman who sewed upholstery at a Ford factory in Dagenham, England. She led a strike that became a major influence on the equal treatment of women in the work place. I'm looking forward to seeing this finally, even if its only because of the brilliant Sally Hawkins at the wheel of it, so to speak. She's a truly gifted actress, and I've been chomping at the bit for her to land another lead role after falling in love with her in Happy-Go-Lucky.
All Good Things - not so good. In a film with Ryan Gosling and Frank Langella, the best performance comes from Kirsten Dunst? What? But, it happened. Based on a shocking murder case that rocked New York for years, the film treats itself far too seriously, despite its indication of early tongue-in-cheek disposition. But, whatever. The film finally comes to DVD after its initial VOD release, followed by a near pointless theatrical run. I saw it a long time ago. I've been trying to forget about it ever since.
Mesrine: Public Enemy #1 - Vincent Cassell brings us (another, this week) the true story of France's greatest criminal, on the run and hunted for all he's worth. His performance has been called the best of its kind in recent years, and the film has been hailed as the French equal of, oh... say, Goodfellas. I'm reminded a bit of the two-part Che, personally, but that's beside the point.
I'm saving a day to watch both this, and it's other half Killer Instinct, in the same day. I'm stoked.
Fair Game - Sean Penn and Naomi Watts star in ... the true story *sigh* ... of a woman scorned from her workplace. Specifically, a CIA agent who is outed for her political beliefs, and the political beliefs of her husband, a journalist.
The early reviews were very promising, but once the film came out, no one seemed to care anymore. Still, I'm as excited as I can be for something like this. Of course, I'll subconsciously hold it to the standard of Nothing But the Truth, but it'll be more like the inverted version of that film, from the CIA agent's point of view. Not Kate Beckinsale's.
For more information, and to go to the films' Amazon pages, click the link images to the left.
Go out and get a movie. You've a long week ahead of you. You've earned it.