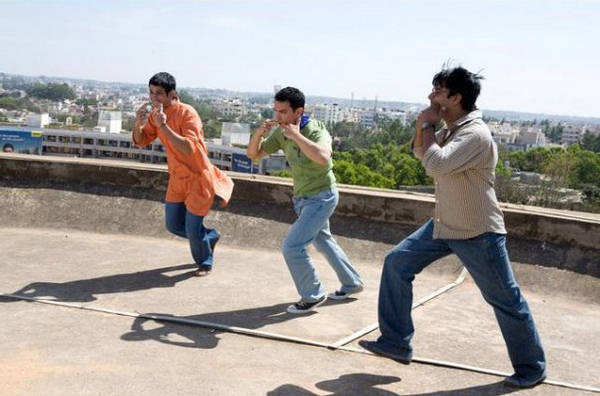 3 Idiots Knuckle Up
This is an odd week for DVD releases... usually, lately, we've had three or four recognizable films that have either won awards, or critical praise, or have been revered in their own way for being terrible so we can lament the fact that they're now available in yet another format. This week, of course to break the trend we're so used to, are three releases I can safely say I've never heard of. But, in all fairness, I'm looking forward to them. Some what. A Bollywood-ish farce called 3 Idiots, a walk across the country with an orphaned girl Jolene, and a walk from one end of the room to the other in Bunny and the Bull.
Which is more worth your time and money, however? Probably all of them. But, I'm guessing that Bunny and the Bull might be the best bet.
3 Idiots is a Bollywood comedy from the mind of Rujkamar Hirani, who brought us 2006's Lage Raho Munna Bhai, sequel to 2003's hilarious Munna Bhai M.B.B.S. No doubt, the man has a bit of clout with Hindi audiences, but the word in the West on this film has been next to nil. Honestly, I hadn't heard of it until yesterday when preparing to write this. I'll sit down watch it when I can, but I can tell you this about it -
The story is simply this - two non-conformist men go out of their ways to find their missing "idiot", the man who inspired them to be creative and break from the mold. Along the way, they crash a wedding, attend a funeral, and meet a cast of strange characters. The film's running time is nearly three hours, so there's apparently a lot of ground to cover. In terms of reviews, the film is apparently strong and a good addition to Hirani's growing canon. But, the problem is getting the film out there and known. A sleeper of a DVD release isn't really the best way to do that. On the other hand, most Bollywood films don't wind up being hits over here. And if you come back with "What about Slumdog Millionaire?", hit yourself.
Jolene is the story of a young orphaned girl who spends ten years traveling cross-country and learning about herself, what love is, and how to deal. Dan Ireland helms the film, after a long string of... not so successful releases (recall Mrs. Palfrey at the Claremont and Passionada), and the early word on this doesn't seem to favor him any further than before. Some reviews will call the characters repulsive, but that doesn't stop a film like Happiness from being required viewing, does it? Jessica Chastain stars as our orphan, while Dermot Mulroney, Donald Sutherland, and Frances Fischer round out the main cast.
I can't imagine this one breaking any DVD records, and I'm not even sure I remember it getting a theatrical release, though it probably saw its fair share of festival screens. As far as recommendations go, I can tell you that Donald Sutherland hardly ever misfires, and Dermot Mulroney is lightyears better than he's credited for. Jessica Chastain can go when she has a good script, and Frances Fischer is always tops. If you want a downer for a film, with a bit of life affirming material tossed in, I'd pick this up.
Finally, Bunny and the Bull tells the story of a young man, Stephen, who hasn't seen the outside world in a few months. Holed up in a room, he's collected postcards and gift shop souvenirs as a way of dealing with the outside. The last time he dared to brave the world, actually, he made a trip to Europe with his old friend Bunny. But, that didn't go so well. Bunny won't stand for the depression, and has decided to make good use of the trinkets and cards that have filled his friend's room - roadtrip.
I'm constantly reminded of Eagle vs Shark while watching clips and trailers, but that's mostly just because of the imagery. It's obvious that director Paul King has seen the film, and probably enjoyed it quite a bit. I imagine this film might have a bit more to say, however. Regardless, I know I'll get around to seeing this at some point (hopefully soon) and I'll most likely enjoy the hell out of it.
Go pick up a movie, folks. It's going to be a long week. Enjoy yourself; you've earned it.