Every now and then, a casting director and their team wind up making brilliant decisions that wind up leaving us with devastating and altering performances. From Al Pacino in The Godfather, to Natalie Portman in Black Swan, we've been given the gift of transcendence several times. And, next year, in 2012, we're most likely going to get it again.
More after the cut --
Announced recently was a fantastic piece of news - Anne Hathaway, for Christopher Nolan, will don a leather cat suit and recreate one of cinema's most timeless villains. Selina Kyle, or Catwoman as she's known to Batman. Bruce Wayne, as he's known to her.
This could work.
She used to be the princess, and now she's the prowler.
Michelle Pfieffer made her incarnation an instant classic in 1992. Halle Berry made it an instant joke in 2004. Hopefully, Hathaway's Catwoman will do for Nolan's Batman trilogy what Heath Ledger did for its sequel - a complete bravura performance, bursting at the seams with madcap ability and showmanship. That's what I'm anticipating from Hathaway, and she certainly has the chops. Her roles in Brokeback Mountain, Havoc, Rachel Getting Married, and Love and Other Drugs put her on par with the best actresses working today, and have more than proven she has the talent to not only carry a film, but lift it beyond its means. She's an impressive actress.
Tom Hardy, from Nolan's Inception earlier last year, was also cast as Bane - an abnormally strong inmate who breaks Batman's back. Filming begins this year, and the film will be released in 2012.
Also in the world of casting, Zabibah and the King is coming to the big screen. If you don't know what that is, I'll give you three guesses -
1. An Iraqi romance novel.
2. An Iraqi romance novel with strong anti-American allegories.
3. An Iraqi romance novel with strong anti-American allegories, written by Saddam Hussein.
If you guessed 3, you're correct. Though, the CIA deemed the novel "probably ghost-written" (good job, boys), Hussein's romantic tragedy focuses on young Zabibah (the people of Iraq), whom is desired by a king (Hussein), but is married to an oppressive rapist (... America.). The novel focuses on the love/hate triangle.
And guess who our Saddam is?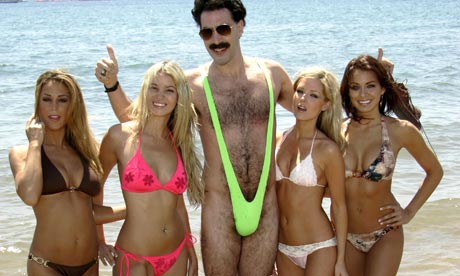 Who's got two thumbs and can oppress a nation?
Slated to play Freddie Mercury in a biopic coming soon, he will follow Martin Scorsese's Hugo Cabret with that and "The Dictator", based on Hussein's book.
This... is shaping up to be a really interesting year, and we're not even in February. Thoughts on the casting? Leave a comment and tell me!